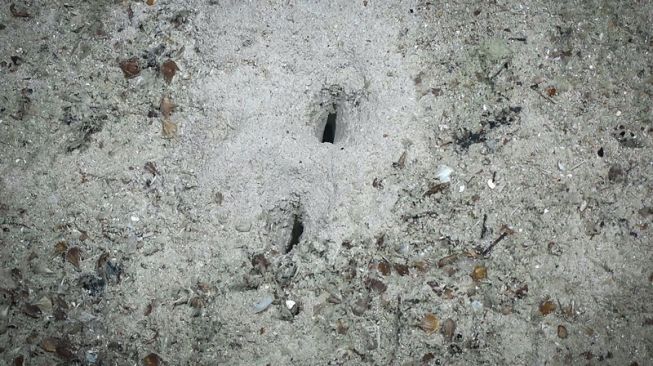 Suara.com – Penyelam menemukan serangkaian lubang "alien" misterius yang berbaris sempurna di dasar laut sekitar 2,6 kilometer di bawah permukaan laut.
Sayangnya, tim tidak mengetahui siapa atau apa yang membuat lubang tersebut.
Lubang aneh itu ditemukan oleh kru Okeanos Explorer National Oceanic and Atmospheric Administration (NOAA) saat menyelidiki Mid-Atlantic Ridge, wilayah dasar laut yang sebagian besar belum dijelajahi.
Lubang-lubang tersebut membentuk garis lurus dan muncul secara berkala dan dikelilingi oleh gundukan sedimen kecil.
Baca juga:
Lubang Ozon Baru Terdeteksi di Daerah Tropis, Dampaknya Mengkhawatirkan
Ini bukan pertama kalinya lubang terlihat di daerah tersebut. Sebelumnya, dua ilmuwan kelautan dari US National Marine Fisheries Service juga melihat lubang misterius di dasar laut saat melakukan penyelaman pada tahun 2004.
"Lubang-lubang ini sebelumnya telah dilaporkan dari wilayah tersebut, tetapi asal-usulnya tetap menjadi misteri," tulis para peneliti NOAA. space.comSenin (1/8/2022).
Menurutnya, meski terlihat hampir buatan manusia, tumpukan kecil sedimen di sekitar lubang itu membuatnya tampak seperti digali oleh sesuatu yang lain.
Sebelumnya pada tahun 2004, para ilmuwan mengusulkan bahwa organisme yang hidup di dasar laut membuat lubang.
Tapi karena tidak ada yang pernah melihat makhluk seperti itu membuat lubang, asal-usul pastinya tidak diketahui.
Baca juga:
Ilmuwan Temukan Bintang Tercepat di Lubang Hitam Bima Sakti
Butuh waktu lama bagi para ilmuwan untuk mengetahui dengan tepat apa yang menciptakan lubang itu.
Tim ahli akan terus mengeksplorasi kawasan tersebut hingga September 2022 sebagai bagian dari ekspedisi Voyage to the Ridge 2022 yang bertujuan untuk memetakan terumbu karang dan habitat spons.