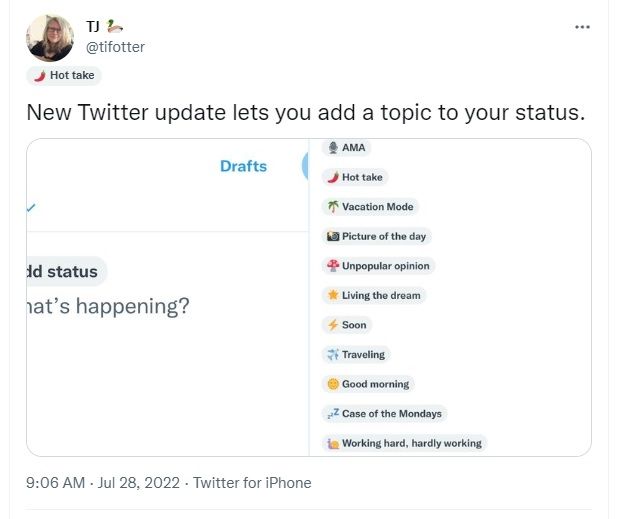 Suara.com – Twitter sedang menguji fitur status yang memungkinkan pengguna untuk menandai tweet mereka dengan label.
Fitur ini mirip dengan yang ada di platform lain seperti LiveJournal dan MySpace.
Seorang juru bicara Twitter telah mengkonfirmasi bahwa fitur Status baru memungkinkan pengguna untuk menambahkan topik label dari daftar yang telah ditentukan.
Dengan itu, pengguna dapat memberikan lebih banyak konteks kepada pengikut mereka.
"Jadi, apakah Anda membuat Tweet panas, berbagi pemikiran dari kamar mandi, atau memiliki cerita buruk pada hari Senin, Tweet Anda dapat menyampaikan apa yang telah Anda rencanakan," kata juru bicara Twitter. Makrumor, Senin (1/8/2022).
Kategori label yang tersedia di fitur Status Twitter antara lain 'Shower thought', 'Picture of the day', 'Spoiler alert', 'Hot take', dan 'Unpopular opinion'.
Label status ini akan muncul di bawah nama pengguna. Namun kategori label tersebut hanya berlaku untuk satu tweet dan tidak dapat diedit.
Jika label status diklik, maka pengguna akan diarahkan ke beberapa tweet yang menggunakan status yang sama.
Saat ini, uji coba fitur Status hanya berlaku untuk sebagian pengguna Twitter di Amerika Serikat.
Baca juga:
Twitter tidak mengomentari countersuit Elon Musk
Tidak jelas berapa banyak pengguna yang mendapatkan fitur tersebut, berapa lama pengujian berlangsung, atau kapan fitur tersebut dirilis secara lebih luas ke publik.