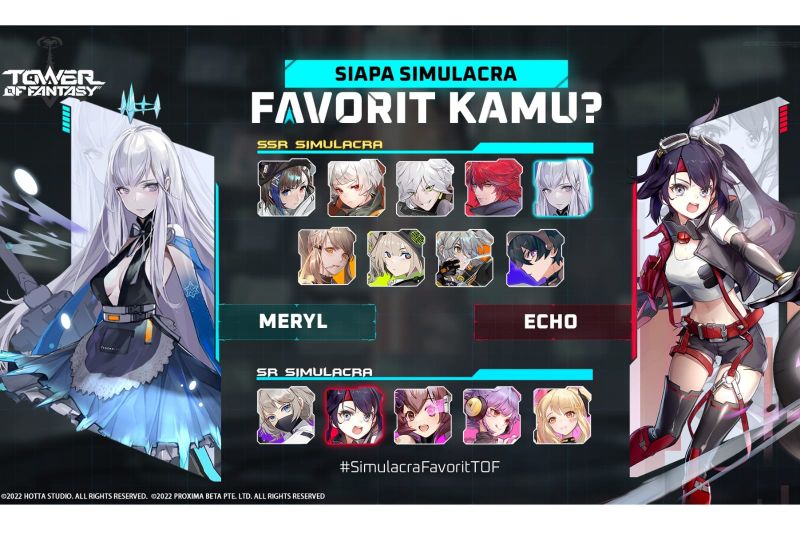 Jakarta (ANTARA) – Level Infinite dan Hotta Studios, pengembang
game
Tower of Fantasy, pada Rabu (20/7) resmi merilis
trailer
untuk memperkenalkan beragam karakter baru dengan kemampuan pribadinya masing-masing.
Dalam trailer ditampilkan setiap senjata dan kemampuan unik dari berbagai karakter baru yang bisa dimainkan, mount imajinatif, dan desain karakter artistik yang bisa dijumpai di dunia sci-fi Aida.
Berikut ini deretan karakter yang ditampilkan dalam trailer, dikutip dari siaran pers yang diterima ANTARA di Jakarta, Kamis.
Meryl
Dia merupakan Hykros Executor senior yang unggul dalam misi tingkat S dengan pedang dan keahlian tempurnya. Dia mengadopsi pendekatan yang keren dan sulit untuk mengetahui apa yang sebenarnya ada di dalam pikirannya.
Shiro
Dikenal sebagai "si penyendiri yang menyukai lautan" yang bersemangat dalam mempelajari lautan dan keistimewaannya, Shiro sudah berkelana seorang diri dan mempelajari distribusi lautan selama beberapa tahun. Dia juga berkontribusi secara signifikan terhadap pemahaman umat manusia tentang Aida.
Samir
Samir merupakan Hykros Executor yang bertindak bebas dan suka mengerjai orang dengan trik-trik yang tidak berbahaya. Dia cukup disukai di kalangan Elite Executor.
King
Dia terbiasa memecahkan masalah dan mendapatkan apa yang diinginkannya melalui kekerasan. King benar-benar termotivasi oleh uang. Sikap kurang ajar dan pakaian flamboyan merupakan indikator kepribadiannya yang kuat.
Crow
Sifatnya yang optimistis dan bahagia menunjukkan bahwa tidak ada hal menyenangkan yang luput dari Crow. Dia bisa menunjukkan trik belati yang memukau, koleksi belati kebanggaannya, atau melontarkan lelucon garing dalam sekejap.
Zero
Seorang jenius komputer yang sengaja menghancurkan semua catatan tentang nama aslinya dan masa lalunya. Dia cerdas, sangat kompetitif, dan suka mengabaikan apa pun yang dia anggap tak berarti baginya.
Cocoritter
Kepercayaannya yang tanpa syarat pada setiap orang yang ditemuinya bisa menimbulkan kekhawatiran. Namun, meskipun polos, dia bertekad untuk menyelamatkan lebih banyak orang dengan bakat penyembuhannya.
Nemesis
Setelah mengalami modifikasi oleh Heirs of Aida, Shirli menjelma menjadi Angel of Clemency yang dikenal sebagai Nemesis. Meski biasanya pendiam dan tertutup, dia berubah menjadi mesin pembunuh tanpa ampun saat berada di bawah kendali pikiran Heirs.
Karakter-karakter tersebut dapat dimainkan di dalam game setelah resmi dirilis pada kuartal ketiga tahun ini.
Pemain dapat berinteraksi dengan beragam karakter sambil menjelajahi dunia Aida yang terinspirasi dari anime, menyelesaikan quest, mini game, dan aktivitas lain melalui fitur-fitur unik yang terdapat di dalam game.