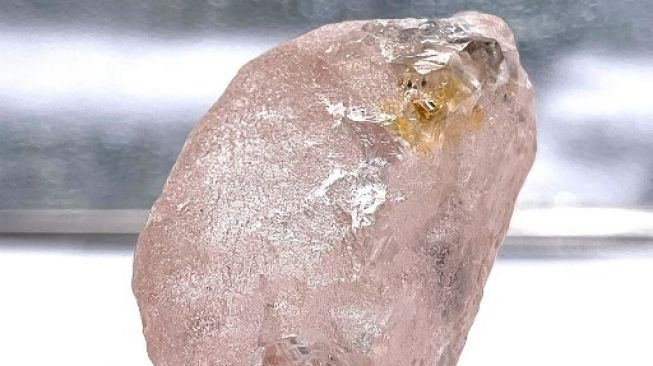 Suara.com - Para penambang di timur laut Angola menemukan berlian merah muda yang sangat langka dan dipercaya sebagai permata terbesar yang pernah ditemukan dalam 300 tahun.
Pemilik tambang, perusahaan Australia, Lucapa Diamond, menyebut batu permata 170 karat itu dengan sebutan The Lulo Rose.
Operator mengatakan berlian akan dijual dalam lelang internasional oleh perusahaan negara yang berbisnis di bidang permata.
Temuan permata merah muda ini disambut positif oleh pemerintah Angola.
"Rekor ini dan juga temuan berlian merah muda dari Lulo menunjukkan bahwa Angola adalah pemain penting di dunia terkait penambangan permata," kata Menteri Sumberdaya Alam, Diamantino Azevedo, dalam satu pernyataan.
Berlian serupa - setelah dipotong dan dipoles, terjual dangan harga rekor tertinggi.
Permata yang dinamakan The Pink Star sebesar 59 karat, terjual seharga US$71,2 juta (Rp 10 triliun) pada 2017, harga tertinggi sejauh ini.
CEO Lucapa, Stephen Wetherall, mengatakan hanya satu dari 10.000 permata berwarna merah muda dan temuan ini sangat langka.
Wilayah tambang Lulo adalah tambang aluvial. Artinya, batu-batu itu diambil dari dasar sungai.
Perusahaan Lucapa sedang mencari deposit bawah tanah, yang dikenal sebagai pipa kimberlite, yang akan menjadi sumber utama berlian, kata Wetherall.
Sekitar 400 karyawan dikerahkan di pertambangan Lulo yang telah memproduksi dua berlian terbesar di Angola, termasuk permata sebesar 404 karat.
Menurut Lucapa, berlian merah muda itu adalah permata kelima besar yang ditemukan di tambang itu. Sejauh ini mereka menemukan 27 permata sebesar 100 karat atau lebih di sana. (Sumber: BBC)