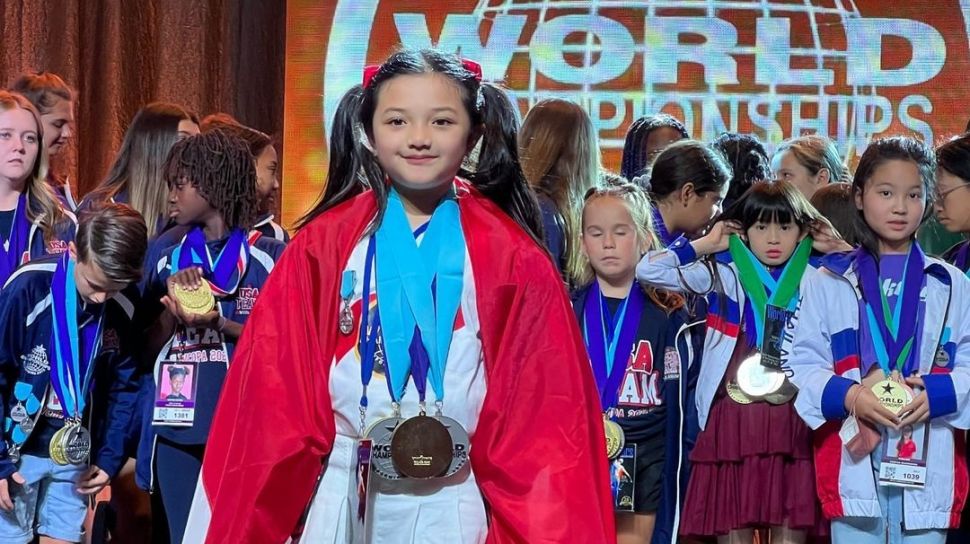 Suara.com – Putri Anang Hermansyah dan Ashanty, Arsy Hermansyah buat bangga nama Indonesia setelah memenangkan ajang World Championships of Performing Arts (WCOPA) 2022 yang digelar di Amerika Serikat.
Rupanya, Arsy sendiri berhasil mendapat 14 medali dari ajang tersebut. Ashanty sendiri menuliskan rasa syukurnya putrinya itu mendapat banyak medali dari ajang internasional itu. Lebih hebatnya lagi, Arsy bernyanyi 8 lagu dengan berbagai genre yang berbeda.
"Alhamdulillah total Arsy bawa 14 penghargaan. Bangga liat bendera Indonesia berkibar, bangga dengan peserta Indonesia yang lain hebat-hebat semua," tulis Ashanty dalam akun instagram pribadinya, Minggu (31/7/2022).
Sementara itu, melalui kanal Youtube The Hermansyah A6, Ashanty mengaku beli baju mendadak karena tidak mengetahui putrinya tersebut lolos ke babak semifinal. Rupanya, saingannya sendiri berada pada usia di atas 8 tahun.
Tidak hanya itu, Arsy menjadi anak pertama yang berhasil masuk ke semifinal dengan usia 7 tahun. Pelatih Vokal Arsy sendiri merasa bangga karena putri Anang Hermansyah itu tampil memukai sehingga bisa lolos ke semifinal.
Sebelum tampil, terlihat Arsy menyempatkan diri latihan. Bahkan, ia sempat merasa takut dan grogi karena saingannya cukup hebat.
"Arsynya lagi grogi padahal dia bagus, degdegan dia," ucap Ashanty sambil menenangkan putrinya tersebut.
Pada babak semifinal sendiri Arsy membawakan Don't Rain on My Parade dari Barbra Streisand. Dengan baju berwarna silver Arsy tampil dengan suaranya yang menggelegar. Bahkan, ia sendiri tampil dengan sangat lepas dan tidak terlihat grogi.
Penampilannya tersebut juga diikuti dengan bahasa tumbuh dan penguasaan panggung yang luar biasa. Sesekali ia memainkan tangannya dengan suara yang tetap stabil.
Ashanty yang melihat penampilan putrinya tersebut tersenyum. Setelah penampilan selesai ia juga langsung bersorak dengan lantang untuk putrinya itu. Sementara Anang langsung mencium Arsy dan memujinya.