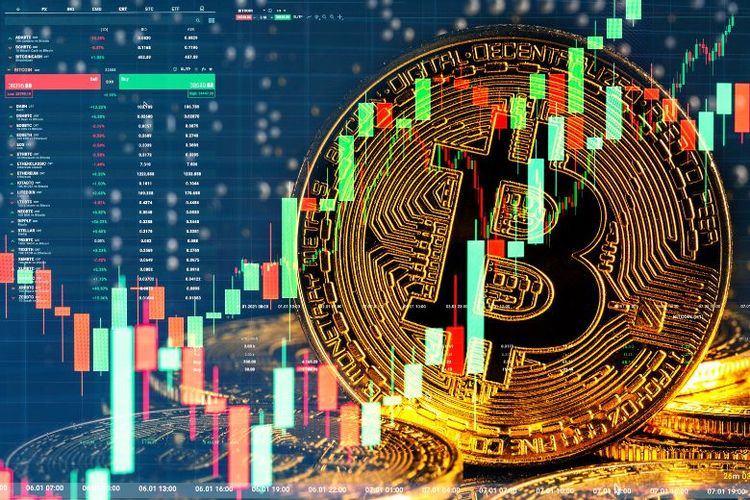 Jakarta - Harga Bitcoin (BTC) terpantau kembali melemah seiring dengan sikap investor yang menanti hasil pertemuan The Fed.
Mengutip data CoinMarketCap, Senin 25 Juli 2022, harga Bitcoin turun 3,45 persen selama 24 jam terakhir menjadi US$21.870. Pada dini hari tadi harga aset kripto dengan kapitalisasi pasar terbesar di dunia tersebut sempat menguji kisaran US$23.000.
Harga sejumlah altcoin juga ikut melemah, harga Ethereum (ETH) turun 5,56 persen menjadi US$1.519, Solana (SOL) terkoreksi 5,94 persen ke level US$38,37, dan Dogecoin (DOGE) turun 5,30 persen ke posisi US$0,065.
Trader Tokocrypto, Nathan Alexander menjelaskan pergerakan pasar kripto awal pekan ini memang cukup mengecewakan. Sepanjang akhir pekan lalu, Bitcoin diperdagangkan sideways dan bahkan sempat berada di bawah US$22.500.
Padahal, hari Rabu pekan lalu BTC mencapai level tertinggi sejak sebulan terakhir menembus US$24.000.
Dari sisi teknikal, kinerja buruk kripto awal pekan ini disebabkan oleh ketidakmampuan Bitcoin untuk mempertahankan kinerja di atas level Simple Moving Average dalam kurun 200 pekan terakhir di angka US$22.800.
"Investor mencerna kondisi itu sebagai sinyal bahwa harga BTC kemungkinan tak dapat menguat lebih jauh lagi," jelasnya dikutip dalam keterangan resminya, Senin 25 Juli 2022.
Nathan menambahkan, penurunan ini juga disebabkan sikap investor yang meninjau kembali kecemasan atas inflasi dan ekonomi global. Hal tersebut membuat investor mengakhiri aksi beli untuk mundur dari aset berisiko.
Selain itu, investor juga tengah mengantisipasi kebijakan moneter teranyar The Fed.
"Investor pun terlihat sudah melakukan priced in terhadap peristiwa-peristiwa makroekonomi di depan mata, utamanya kenaikan suku bunga acuan The Fed yang dijadwalkan terjadi pada 28 Juli mendatang," ujarnya.
Sejauh ini, pelaku pasar meyakini The Fed akan menjaga komitmennya untuk mengerek suku bunga acuan paling tinggi 75 basis poin. Melihat hal ini investor masih menanti gerak pasar indeks saham AS ke depannya.
Nathan melanjutkan, pergerakan pasar kripto pekan ini akan tertekan hingga cenderung sideways. Menurutnya, jika harga BTC terus berada di bawah level US$22.500, maka berpotensi melakukan retest ke level US$20.800 hingga US$21.300.
"Target kenaikan harga Bitcoin apabila mampu breakout area resistensi berada pada harga US$ 24.776, dan 20-day EMA pada harga US$ 21.735 menjadi titik support-nya apabila harga Bitcoin mengalami koreksi," pungkas Nathan.